About Gaustatoppen
Gaustatoppen is located in the Gausta area near the town of Rjukan, in the middle of Telemark in southern Norway. Its accessibility and proximity to Oslo make Gaustatoppen a very popular place for hiking and ski touring. Gaustatoppen is visited by 120,000 people every year. The high season runs from July-August.
During winter, the mountain is visited by ski enthusiasts from all over the world. It's also a popular year-round destination for those who are interested in history, thanks to Gaustabanen and its unique history.
See what you can experience at Gaustatoppen
Facitilities at Gaustatoppen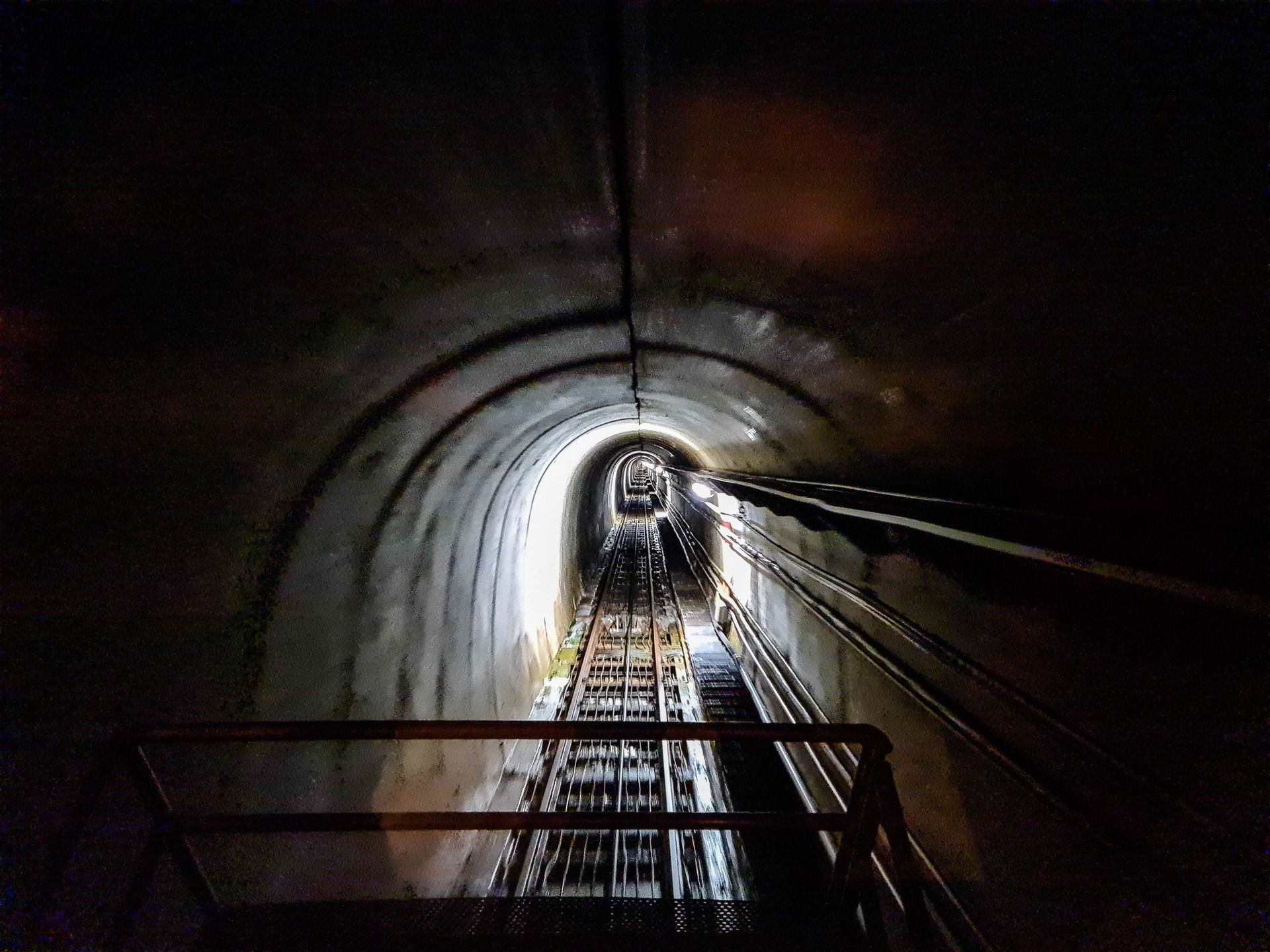 A unique underground railway
Gaustabanen
Gaustabanen is a unique cable car inside Gaustatoppen. It runs to the top at 1800 meters above sea level in 15 minutes. Many visitors also choose to walk up Gaustatoppen and take the Gaustabanen down, or vice versa.
Waffles with a view
Gaustatoppen Turisthytte
Gaustatoppen Turisthytte is located at Gaustatoppen. Here you can enjoy freshly baked waffles and a cup of coffee or hot chocolate with a breathtaking view of large parts of southern Norway.
Travel to Gaustatoppen
Gaustatoppen is located in the Gausta area in Telemark in southern Norway, not far from the town of Rjukan in Tinn Municipality. The easiest way to get here is by car. Gaustatoppen is about 2.5 hours by car from Oslo, 4.5 hours from Kristiansand and 6 hours from Stavanger and Bergen. You can also travel here by bus or a combination of plane and bus/car.
The drive from Rjukan to the mountain plateau, where hiking trails to Gaustatoppen begin, takes about 20 minutes.
Read more: Travel to Gausta
Tip! Norway has a well-developed infrastructure for electric cars, so finding charging stations along the road to Gaustatoppen is no problem.
Parking near Gaustatoppen
There are many places to park near Gaustatoppen. Parking spaces are available at:
Gaustabanen (for the guests of Gaustabanen)
Hovdestaul
Gaustablikk Fjellresort (for hotel guests)
Gaustatoppen Sportell (for hotel guests)
Gausta Skisenter
Stavsro
Skiparkeringen ved Langefonn
Keep in mind that the car park close to Gaustatoppen quickly fills up during the high season in July-August and that it is not allowed to park outside the designated parking lots. If the parking is full, we recommend one of the other parking lots at Gausta and take a shuttle bus from there to the mountain (about 20 min).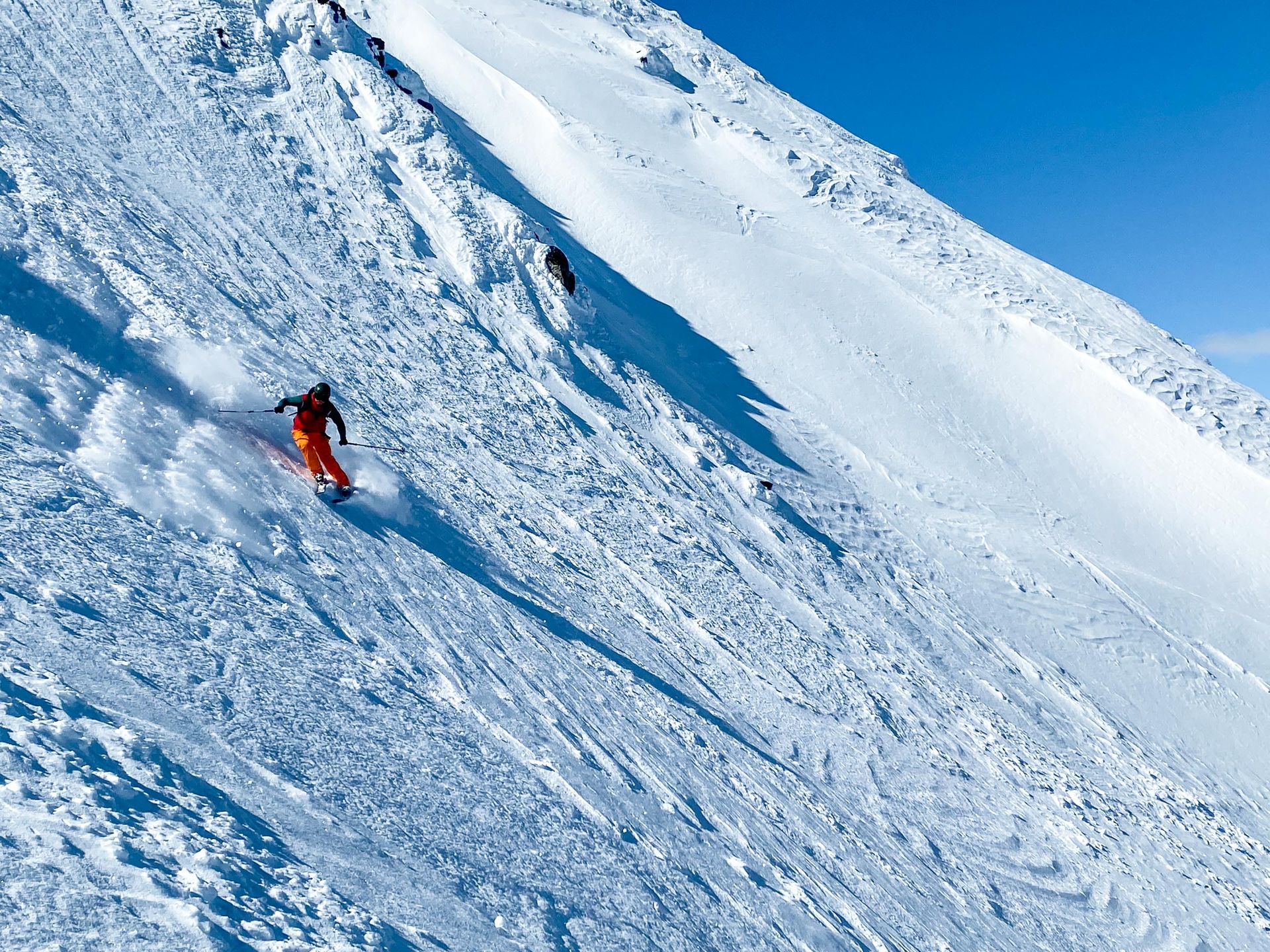 Skiing from Gaustatoppen
In both Winter and Spring, Gausta offers world-class skiing. Here there is something for all levels: the marked trail down Langefonn suits the vast majority, while the steep chutes can entice advanced skiers. These trails are off-piste and are not groomed. You ski and ride them at your own risk. Skiing from Gaustatoppen requires the right knowledge, experience, and equipment, in addition to being aware of weather conditions and avalanche warnings before venturing out into the terrain.
Winter map Gaustatoppen – with slopes and lifts at Gausta Skisenter and Gaustatoppen.
The weather and conditions at Gaustatoppen today
Here you can see the weather and conditions at Gaustatoppen right now:
Keep in mind that the weather can change quickly. Stay up to date with the weather reports and always follow the Norwegian mountain code
Gaustatoppen – part of Gausta
Gaustatoppen is located on Gausta and is an all-year-round destination in Tinn Municipality in Telemark in southern Norway. The Gausta area extends over a mountain plateau at an altitude of 1000 metres. It's located by the foot of the mountain, above the town of Rjukan in Vestfjorddalen.
The area is about 10 km in diameter, from Vatnedalen in the east to Gaustatoppen in the west. In addition to Gaustatoppen and Gaustabanen, there is the family-friendly Gausta Skisenter with 13 lifts and 36 slopes, the classic hotel Gaustablikk Fjellresort, shops, restaurants and several cabin areas.
Read more: About Gausta
Best time to visit Gaustatoppen
Gaustatoppen can be visited all year round. The mountain is just as beautiful regardless of the season, and each season has its charm. In the autumn the mountains are coloured in red and orange. During winter the snow is sparkling and the skiing is magical, and the summer's long and bright days offer fantastic hikes.
The best months for hiking are usually July - September, with a peak in late July and early August. At this time, there can be long queues along the path from Stavsro. If you want to experience the mountain during this period, we recommend going up extra early or later in the day. And it is well worth it, since you also get to experience the sunrise or sunset!
The best months for skiing are usually early spring during March and April. During this time of the year, the days are longer and there is usually more snow, while the weather conditions are milder compared to earlier in the winter. The snow usually stays all the way into May. Many even celebrate Norway's National Day, May 17th, on skis from Gaustatoppen (!)
---
Tip!
Gaustatoppen's unique position means that clouds easily get stuck around the top. (Although it can be sunny and clear in the surrounding area). In order to be sure to experience the view from the top, stay a few days in the area. Then you have greater opportunities to go up on a day with good visibility, while you have time to explore all the other exciting things that the Gausta area has to offer.
Gausta
Gausta.com is the official booking centre for Gausta. Here you'll find the best selection of lodging in the Gausta area, ski passes to Gausta Skisenter, and a wide selection of activities and exclusive package deals.
© Copyright 2023 - Gausta.com
---