Gausta has made it easy to get around during the winter season. With the Gausta Express, you can effortlessly and free of charge explore the area and enjoy your ski vacation without transportation worries.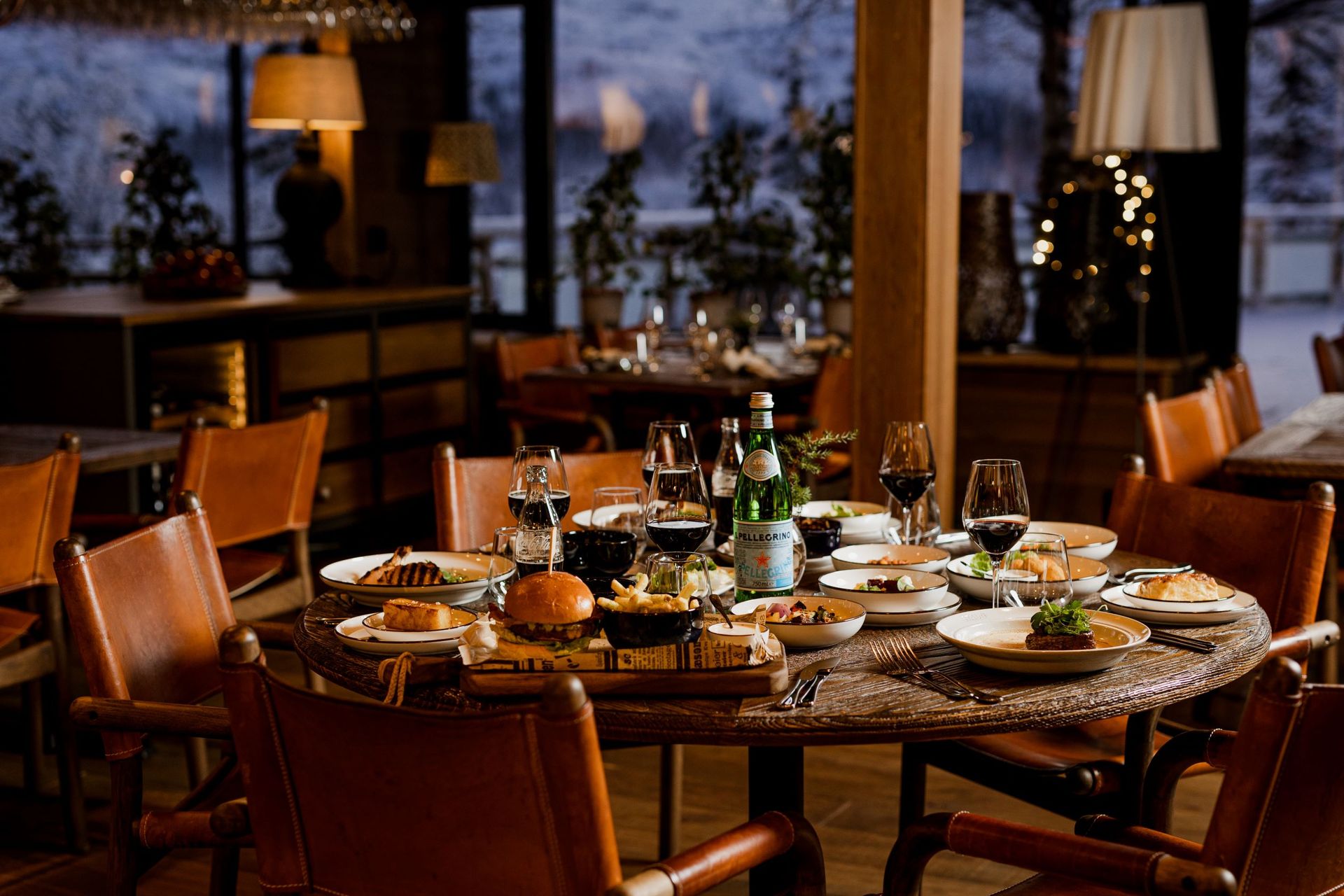 Free transportation to the restaurants
Prebook a table at Gaustablikk Mountain Resort and enjoy complimentary transport to and from the restaurant*.
Offer valid every day during the following periods:
December 15 - January 6
February 9 - March 2
March 27 - April 1
Prebook transportation at the restaurant or call us at +47 35 09 14 22
*Offer applicable if you are in the Gausta area.
Getting around the area
At Gausta you can easily get around by car or bus, but also on foot. During the winter, you can ski from the base areas at Gaustablikk and Hovdestaul, and most accommodation in the area has ski-in / ski-out.
The drive from the Gausta plateau to Rjukan takes about 15-20 minutes and is accessible by car and bus. The popular Rjukan-Notodden Unesco World Heritage Site is located about 20 km, and respectively 35 km, from Gausta.
Travel to Gaustatoppen
Gaustatoppen is located in the Gausta area in Telemark in southern Norway, not far from the town of Rjukan in Tinn Municipality. The easiest way to get here is by car. Gaustatoppen is about 2.5 hours by car from Oslo, 4.5 hours from Kristiansand and 6 hours from Stavanger and Bergen. You can also travel here by bus or a combination of plane and bus/car.
The drive from Rjukan to the mountain plateau, where hiking trails to Gaustatoppen begin, takes about 20 minutes.
Read more: Travel to Gausta
Tip! Norway has a well-developed infrastructure for electric cars, so finding charging stations along the road to Gaustatoppen is no problem.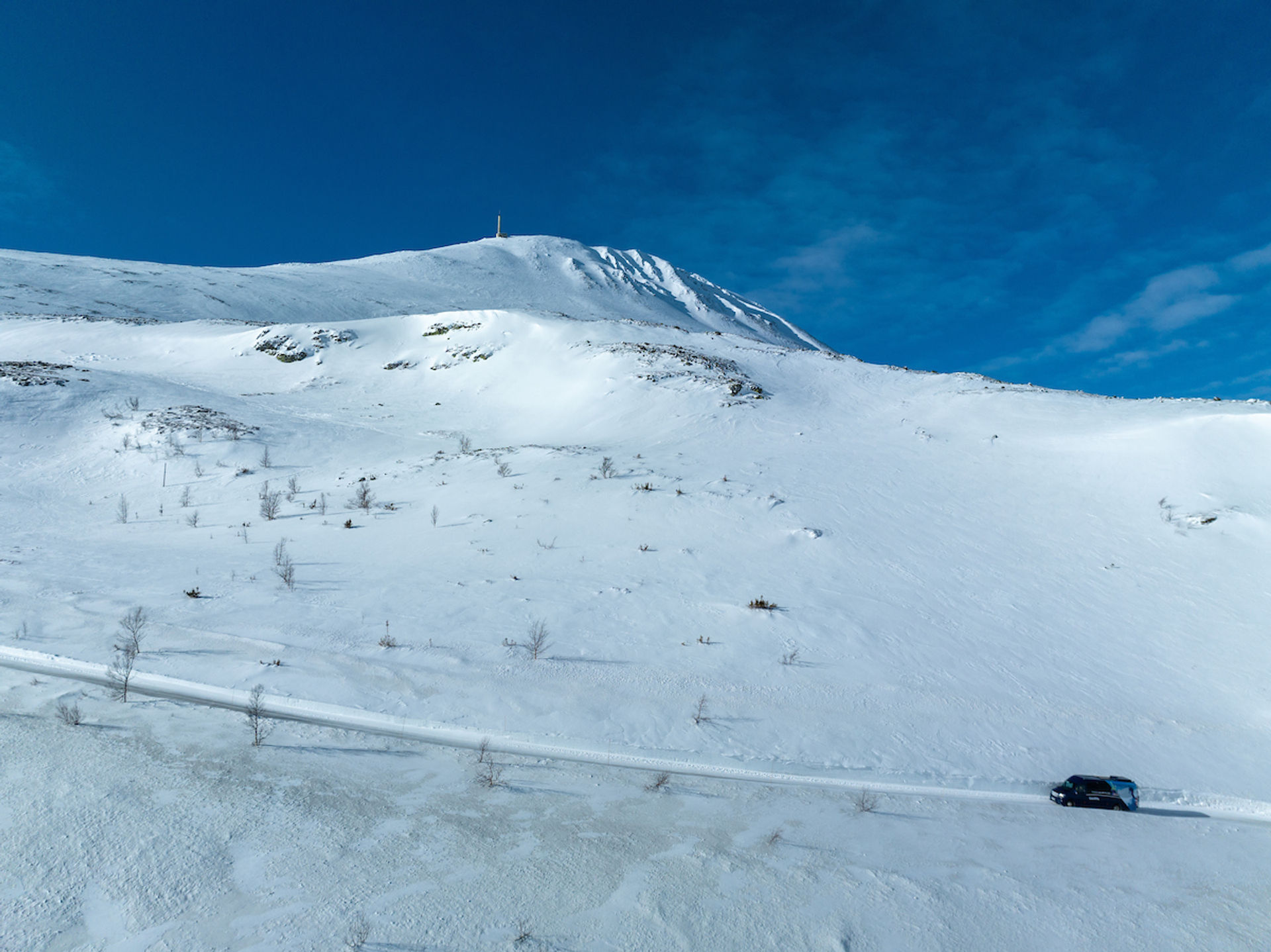 Parking near Gaustatoppen
There are many places to park near Gaustatoppen. Parking spaces are available at:
Gaustabanen, Gaustablikk Fjellresort and Gausta View (for the guests of Gaustabanen and hotels)
Hovdestaul
Gausta Skisenter
Stavsro
Skiparkeringen ved Langefonn
Keep in mind that the car park close to Gaustatoppen quickly fills up during the high season in July-August and that it is not allowed to park outside the designated parking lots. If the parking is full, we recommend one of the other parking lots at Gausta and take a shuttle bus from there to the mountain (about 20 min).
By car
Most people come to Gausta by car. Down below, you can see the distance to Gausta:
Oslo - Gausta: 183 km (2.5 hours)
Stavanger - Gausta: 340 km (6 hours)
Bergen - Gausta: 370 km (6 hours)
Haugesund - Gausta: 300 km (5 hours)
Kristiansand - Gausta: 290 km (4.5 hours)
Gothenburg - Gausta: 440 km (5.5 hours)
When driving to Gausta, you can take one of the following routes:
Via road 37: When driving on road 37 along Tinnsjön and approaching Rjukan, take the exit road and turn left at Dale and follow the signs towards Gaustatoppen. The last bit of the road is a steep serpentine road. During the winter, it can be very slippery and difficult to drive here. If you do not have four-wheel drive and/or studded tires on the car, we recommend using snow chains.
Via road 651: You can also take the road over Tuddal and Gaustaråen and drive the last miles through the mountains. Here, you'll have beautiful views and drive past Gaustatoppen. Please note that the road via Tuddal may be closed in winter.
See the latest status on roads at Vegvesen.no
---
By bus or train
If you want to travel to Gausta by bus, there are daily express buses to Rjukan from Oslo, changing in Notodden. It is also possible to take the train to Notodden and change to a bus from here. You can grab a taxi for the last part. Otherwise, more information will come.
---
By plane
The nearest international airport is Oslo Gardermoen Airport, which is located about 225 km from Gausta. To get to Gausta from here, you can rent a car (about a 3.5-hour drive) or take the bus. There is a bus from the airport to Rjukan several times a day (with changes in Oslo and Notodden). Sandefjord Airport Torp is about 180 km away. From here there are trains and buses to Rjukan every day (several changes).
Gausta
Gausta.com is the official booking centre for Gausta. Here you'll find the best selection of lodging in the Gausta area, ski passes to Gausta Skisenter, and a wide selection of activities and exclusive package deals.
© Copyright 2023 - Gausta.com
---